The 15th International Symposium
on Recent Advances in Exploration Geophysics
(RAEG 2011)
November 24th (Thu) - 25th (Fri), 2011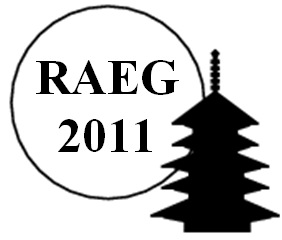 ---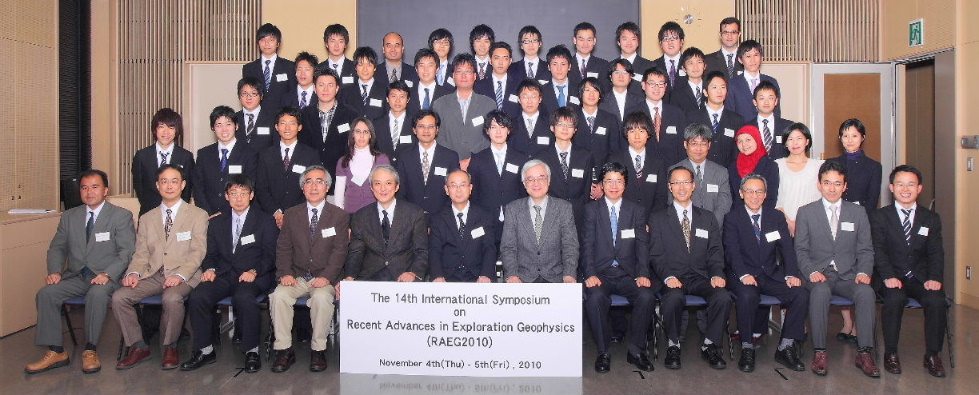 Group Photo at RAEG2010

Information
Conference Name:
The 15th International Symposium on Recent Advances in Exploration Geophysics (RAEG 2011)

Location:
Rakuyu Kaikan, Kyoto, Japan
http://www.kyoto-u.ac.jp/ja/profile/intro/facilities/kyoshokuin/rakuyu (in Japanese)
Access Map (Japanese) >> Click


<< SEG 2011 South & East Asia Honorary Lectures >>
Dr. Kim and Dr. Ghosh give us SEG Honored Lectures (HL) during RAEG 2011.

PROGRAM
Click Here for Detailed Program with authors/titles

November 24th (Thursday)
13:00-13:05: Opening
13:05-15:25: Oral Session
15:25-16:00: Tea Break and Poster Session
16:00-18:00 <<<--- Note:the time for lecture has been changed!!
SEG 2011 South & East Asia Honorary Lectures (Part I)
Incorporating the Fourth Dimension into Geophysical Data Interpretation
Lecturer: Dr. Jung-Ho Kim (Korea Institute of Geoscience and Mineral Resources)
Date: Novmber 24 (Thr.) 15:00-17:00
Click here for Abstract and Biography(PDF)



18:00-18:15: Group Photo
18:15-20:15: Conference Dinner: at the restaurant (1F)
---
November 25th (Friday)
09:30-12:00
SEG 2011 South & East Asia Honorary Lectures (Part II)
Geophysical Issues and Challenges in Southeast Asia
with Emphasis on Malay Basin
Lecturer: Prof. Deva Ghosh(PETRONAS Research)
Date: Novmber 25(Fri.) 09:30-12:00
Click here for Abstract and Biography(PDF)



12:00-12:05: Closing

Fee:
Resistration for RAEG2011& SEG HL (including the proceedings): No Charge
Party: JPY 6,000

Important date:
Conference Date: November 24th (Thu) - 25th (Fri), 2011
Dead Line of Abstract: October 7th (Fri), 2011 Extended!: October 21th (Fri), 2011
<< Please use this WORD file or TEXT file for submission >>

Dead Line of Extended Abstract: October 21th (Fri), 2011 November 4th (Fri), 2011
<< Please use this WORD file or PDF file for submission >>

Dead Line of Registration: November 11th (Fri), 2011 November 18th (Fri), 2011
<< Please use this WORD file or TEXT file for submission >>
---
Note for Authors:
Oral Presentation
15 min for Oral Presentation, 5min for Questions and Comments
A Windows PC for slide show (PowerPoint 2003) is prepared.Please copy your PPT file to the PC at tea break or before beginning your session via your USB memory card or your CD-ROM. Note that the version of your Power Point. Please save the PPT file with the format for PowerPoint 2003.
Your own PC can be available for your presentation.

Poster Presentation
Core time: November 24th, 15:20-16:00
Posters can be presented through the symposium.
Size of poster board = W 90cm, L 180cm (Maximum)
---
First Circular >> Click HERE!!


---
Organization
Organized by:
Environment & Resource System Engineering Lab. and Energy Resources Engineering Lab.,
Dept. of Urban Management, Kyoto University
Geophysics Lab.,
Dept. of Civil and Earth Resources Engineering, Kyoto University
Geo-Environmental Lab.,
Dept. of Civil & Environmental and Applied System Engineering, Kansai University

Co-organized by:
Geosystem Research Institute
Environment Energy Forestry Agriculture Network (EEFA)

Supported by :
Society of Exploration Geophysicists of Japan (SEGJ)


Chairperson:
Toshifumi MATSUOKA (Kyoto University, Japan)

Conference Committee:
Hitoshi MIKADA (Kyoto University, Japan)
Yasuhiro YAMADA (Kyoto University, Japan)
Tada-nori GOTO (Kyoto University, Japan)
Liang YUNFENG (Kyoto University, Japan)
Harushige KUSUMI (Kansai University, Japan)
Toshiki WATANABE (Nagoya University, Japan)

Technical Program Committee:
Takeshi TSUJI (Kyoto University, Japan)
Junichi TAKEKAWA (Kyoto University, Japan)

Secretarist:
Hisa YASUDA (Kyoto University, Japan)
Shiori KAMEI (Kyoto University, Japan)
Kana MORIYAMA (Kyoto University, Japan)

Contact
E-Mail:
raeg2011 (at) tansa.kumst.kyoto-u.ac.jp
(T.Tsuji and J.Takekawa)

Address:
Department of Civil and Earth Resources Engineering, Kyoto University,
Kyotodaigakukatsura, Nishikyo-ku, Kyoto, 615-8540 Japan
TEL: +81-75-383-3197
FAX: +81-75-383-3203